We do speak a lot of guns and gun control, sadly there are always tragic disasters that remind us how fragile a human life is and how violent guns can be. Some signals make me think that we are trying to do something against that human drama.
Gun control a never-ending fight
In a show of support for gun control, Yoko Ono recently tweeted a photo of the bloodied glasses John Lennon wore the day he was murdered with this message : "Over 1,057,000 people have been killed by guns in the USA since John Lennon was shot and killed on 8 Dec 1980″ . Ono is an activist for many causes, she turned her attention to gun violence with a series of tweets that all included this image, which was also used on the cover of  "Season of Glass"  in 1981. She is really speaking loudly to her 4 millions followers on Twitter and giving power to the fight for gun control.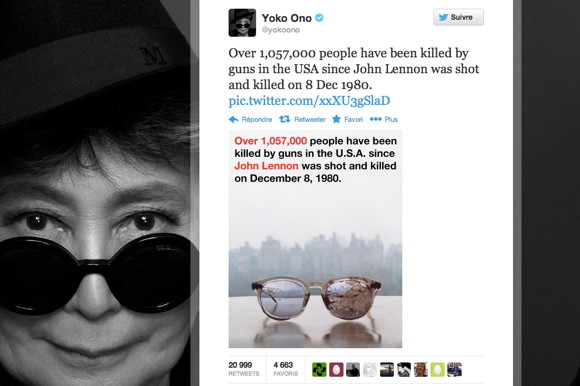 USA is ranked for the highest gun ownership rate in the world. To reduce the number of weapons on the street in cities, Los Angeles, Boston, Detroit, San Francisco have a gun buyback program . Last december, a one-day gun buyback event in Los Angeles gathered 2,037 firearms, including 75 assault weapons and a rocket launcher! The total was nearly 400 more weapons than were collected in a similar buyback earlier this year. People bring their firearms and each participant received $200 cash for each gun turned in.
Instead of following the 'gun buyback' model that has been implemented in the United States and Australia as a way of getting weapons off the street, Uruguay's "Armas para la Vida / Weapons for Life" program is taking a different approach. Instead of getting cash, residents turning in their unregistered weapons will each receive either a new bicycle or a low-end computer.
Those initiatives are great, is it possible to do more? Some people thought the answer is yes.
Up-cycling as a solution
Jessica Mindich is a former lawyer, about a year ago, she was at a conference and ran into the Mayor of Newark. They spoke about Newark's no-questions-asked gun buyback program, which was founded in 2009. The program needed money, and the Mayor didn't know what to do with the weapons the city had amassed. "I know what to do with your guns," Mindich said. Turn them into jewelry. She has transformed recycled pistols, rifles and shotguns into a line of sleek bangle bracelets, some dotted with tiny diamonds: "The Caliber Collection" .The word Newark is inscribed on the inside. Each bracelet has a serial number that corresponds with one of the actual guns taken off the city's streets. Since the end of November, she has received over 1,000 orders from places as far as Brazil, Malta and New Zealand. Twenty percent of the proceeds will go directly to the gun buyback program in Newark, she said.
Will you wear a "Caliber Collection" bracelet? The message is very direct and make a permanent reminder of the gun crime your jewel was associated with…. Is it disturbing or just a really strong message?