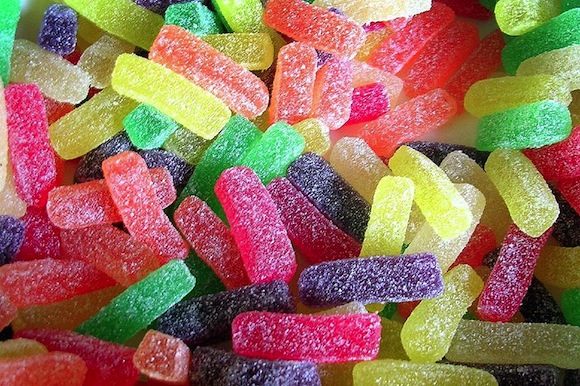 We love and eat candy for fun, sharing, friendliness, gentleness, transgression, consolation, regression, reward, reinsurance, compensation …
Candy is an old word – late 13c.- coming from French sucre candi "sugar candy," ultimately from Arabic qandi. During Antiquity, honey was used a lot, cane sugar is imported to Europe only during the Middle Ages and the beet sugar industry is developed in the nineteenth century. In Europe the beginnings of confectionery are slow because sugar is very expensive.Until the end of the eighteenth century, sweets are reserved for the rich. From the early nineteenth century, sweets become accessible to all.
And here we are now : the Dutch are the biggest eaters of candy, at 29 kg per person a year, in Sweden the annual consumption is over 18 kg per person, Americans eat about 9,5 kg a year … This industry is looking for new territories, we found recently two new directions for this everlasting product.