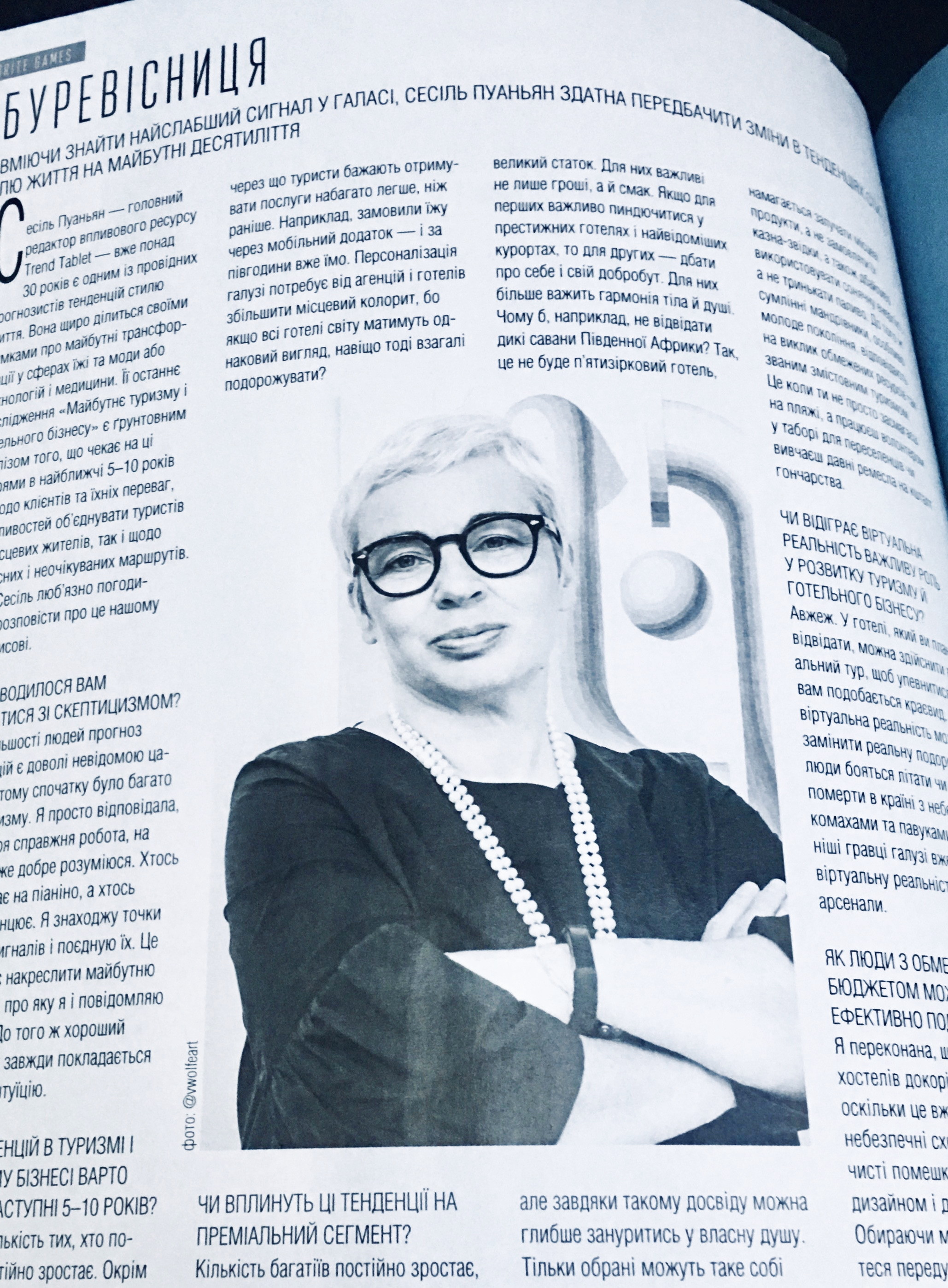 I had been recently interviewed by PANORAMA the Ukraine Airlines Magazine , here is the transcription in English :
One of the leading lifestyle trend forecasters for over 30 years, Cecile Poignant observes and analyses the world around her. She shares with us her thoughts about what awaits us in various areas, from food and fashion to technology and healthcare. Her latest in-depth research is called "The future of travel and hospitality", and it is a thorough analysis of what is expecting the industry in the next 5-10 years in terms of client base and their preferences, possibilities to connect travelers and locals. Cecile kindly agreed to offer her views to Panorama readers.
By being a trend forecaster, did you face skepticism, and how did you cope with that?
Trend forecasting is a job existing for more than 50 years so it's somehow not so old. Of course, there was a lot of skepticism initially, but I explain to people that being a forecaster is a real job and that I was good at it. Some are good at playing the piano, while some are good at dancing. I am good at seeing the dots, and connecting them to forecast the upcoming trends.
In terms of travelling, what are the trends to look out for in the next 10-15 years?
One of the most important things is that there have been much more people travelling recently. For instance, Chinese citizen have got more opportunities to travel which is changing the whole travel business. The constant development of technologies means that people expect to receive services with a higher level of easiness, when checking , ordering room services …. Personalization is really very important as people want to get what has been made specially for them. The meaning of local vs. global will be very present, because if hotels are the same all over the world, what is the point in travelling?
Will these trends affect the luxury segment as well?
The number of rich people has been increasing, especially from places like Russia and China, and they have been looking for customized and bespoke experience. Some of these rich people want to show off in the most prestigious hotels and travel destinations, But, there is also a different group in the luxury segment, descendants of nobility families with money for several generations. These people are highly educated, tasteful, and what they wants the most is to take care of themselves.They go on health and meditative retreat, cultural unique experience …
Can scarcity of resources affect travelling and hospitality trends?
Of course, this is why many hotels try to use local resources and adopt a more sustainable approach in their business. Besides, people with conscience, especially those from the younger generation, respond to scarcity of resources by being engaged in a « meaningful tourism ». They don't just go to the beach to get tanned, but they travel with purpose to help in a a refugee camp as volunteer, or to spend time with artists or artisan to learn new creative skills.
Can virtual reality play an important role in the development of travelling and hospitality industry?
By all means. You can go on a virtual tour in a hotel where you are planning to stay and see if you like the view. In some cases, virtual reality can even replace real life travelling for people who are scared of flying or do not want to go to a dangerous country.The industry's wisest players have already included virtual reality into their arsenals.
How can young people with limited budget travel efficiently?
I truly believe the concept of hostels has completely changed, now they are design, clean and safe to stay in, and really affordable. My advice is to listen to your heart when choosing where to go. Travelling is the best education, sometimes even better than schools and universities. If you manage to find some in-between jobs that will guarantee your six-month travelling, then be afraid of nothing and fly towards new horizons.