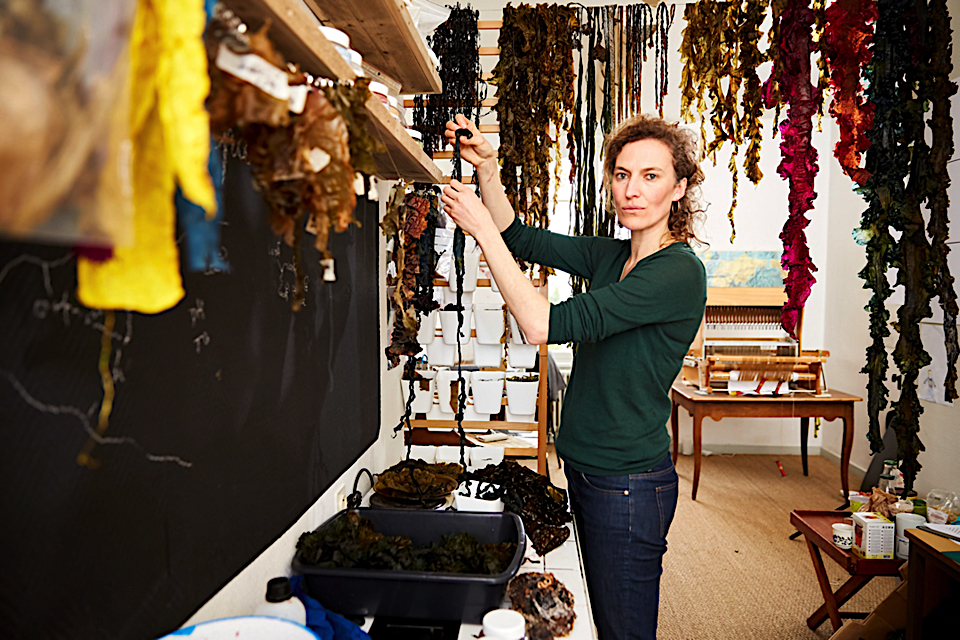 Violaine Buet is a designer with a passion for textile design and artisans. For her « the beauty of each design or material is intrinsically tied to the harmony between each link, which unites every hand involved in the creative process ». In September 2016 after her return to her birthplace Brittany she set up her studio for the research and creative development of macro-algae. She is accompanied by a network of experts, researchers and artisans with whom she collaborate.
For you to get to know her better our editor Cecile Poignant interviewed her .
What is your main inspiration for this project?
My inspiration was born in a gap, a step in my life, between void and rebirth.
And from the simplicity of the access to nature and its silence ; between seaweed and myself ; wind and water, no bells and whistles, no promises, no glitter… And no desire to conquest but to welcome what could eventually happen.
Sometimes I find we live in a "noisy" society, where we are brought to believe the more bustle we make, the more space and acknowledgment we will get… the longer our eternity will be…?
What fascinate you about algae?
They come from so far (billion of years), are connected to the origins of life, provide 50% of the oxygen on the planet, but are still so discrete, so humble…
For the wideness of their esthetic spectrum, they embrace multiple facets, they are challenging and playful.
And for their emotional impact; a wet seaweed has an amazing connection with tenderness of human skin, the vibrance of the animal world, the benefit of the vegetal lineage…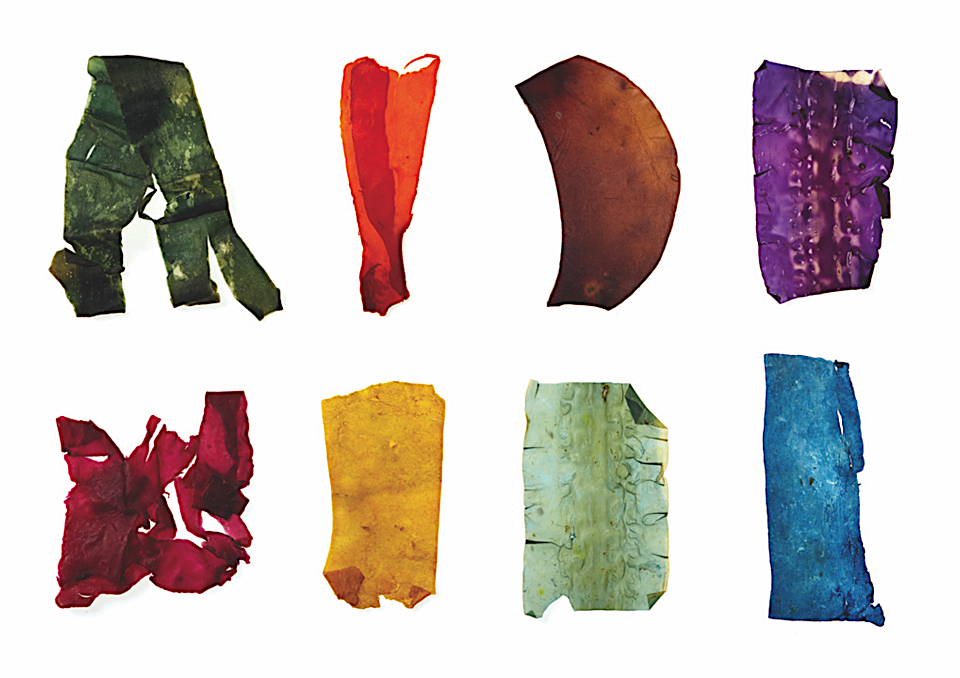 How did your background in design influences your project?
I looked at seaweed in an unvisited angle; as designers, in the very first step of a project, we have to let our frame of references behind, and look at things with fresh eyes; to let the field open for new connections to emerge, to let go the cerebral and start with our senses. It sounds very simple but it means to stop controlling.
Once this intuitive and sensitive exploration has opened the fields for new possibilities, as large and as wild we can, then we confront those paths to the material reality, using our knowledge and know-how.
And the knowledge of the others: experts and searchers of the subjects; and here is may be the most important influence of my design background in this project; to be able to network, to find experts where I had questions. To gain their interests too. I really enjoyed building up a network of various and precious interlocutors, custom-made to this seaweed adventure, my own skills are limited but if I am able to gather the very right people, our commons skills are so wide.
Do you think the material of this project could be used for mass production in the near futur?
With ennobled-seaweed as shown in the pictures, I see the birth of a new craft discipline. A craftmanship dealing with an organic material, a biodegradability factor, a sustainable ressource. The aim is to magnify seaweed as a material, to reduce some of its constraints without altering its qualities. And to respect its seasons.
This is one of the seaweed chapter, related to a craft production, related to the rhythm of an marine ecosystem. I feel dedicated to this story, and will continue to push its significance. It is still the very beginning. The understanding I get of the material trough this approach will hopefully give me some adjusted insight and projects connecting seaweed with industry, mass market. … and probably seaweed could be a precious milestone to question futures mass market?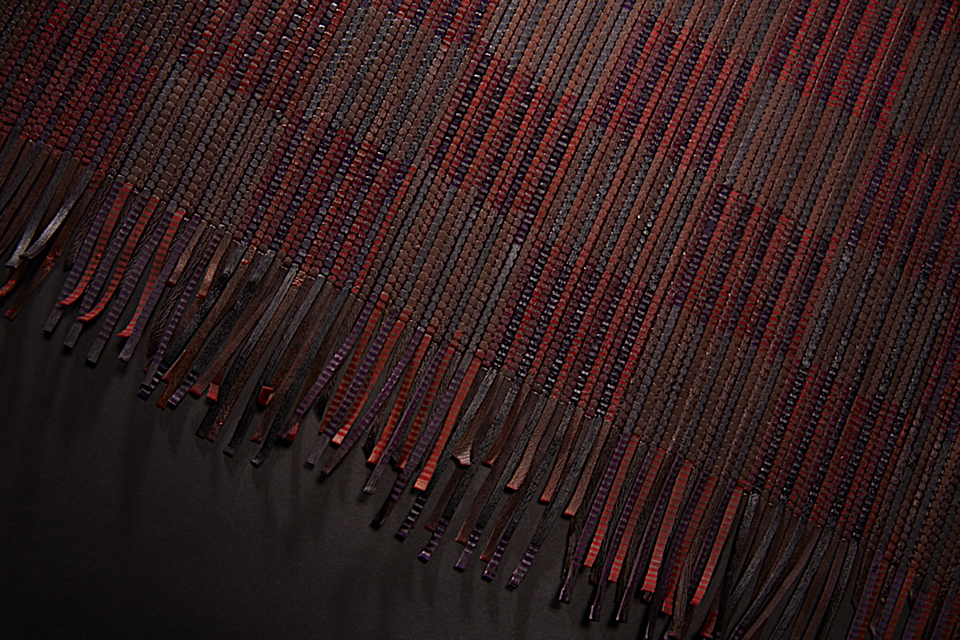 What fascinate you about designing material?
It is like drawing the beginning of a story… it is a movement, connected to infinity.
Can you tell me a little bit about the design process, how do you start your design and what's your goal ?
In this seaweed project, I was guided by the material itself, I adjusted my intuitions and my tools to the material. Once I had settled a protocol, I knew the margin I could play within.
If I refer to the process of designing a surface, a pattern, I usually start with a strong image, it can be a strong sensation from a mental image, a kind of inner landscape? Then the goal is to keep, through the whole process and specification, the feeling of the initial image alive. I strongly feel I have to team up with the material, and that's so joyful when something extra happens at the end; for example I worked on a woven piece for a competition, with the help of a weaver, and once it was over I was stunned by the reaction of the pattern to the light ; the check pattern turned opposite under the light, the darker parts became lighter, the lighter ones became darker! Certainly, my goal is to approach emotions.

How would you describe yourself ?
…A laminaria saccharina?
What impact do you want your work to have on society?
To disappear one day without any track…
To encourage multidisciplinary long term researches, especially scientist with creative people : for me the key of an energy of innovation.
To relay the power of creativity, the inventiveness of nature.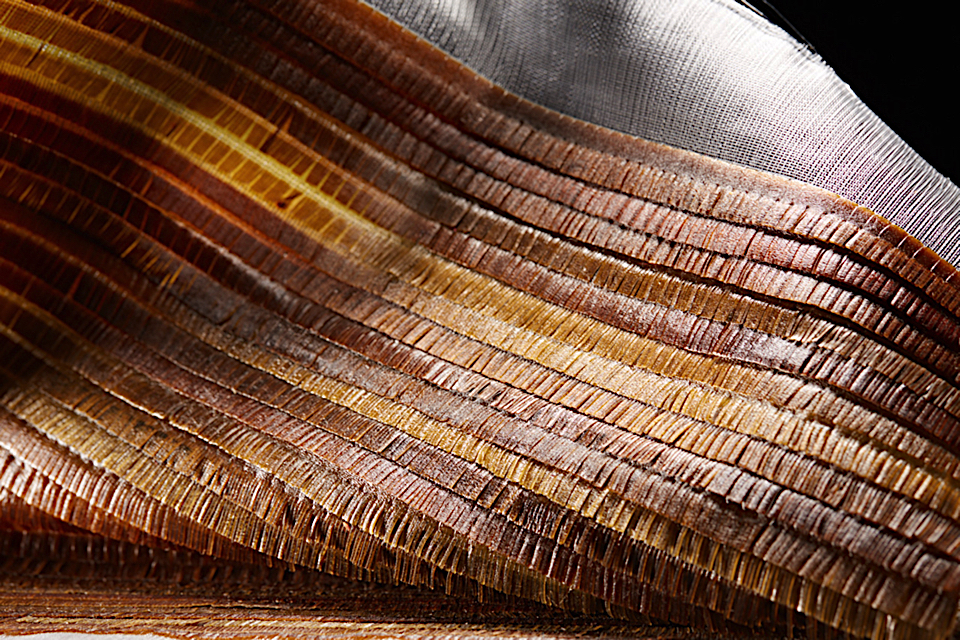 What are your plans for the future ?
I am ready to connect this adventure with audacious and sustainable projects!
A scenographic for living arts? A haute-couture dress? A global project including seaweed as a singular link in a blue economy system? A seaweed sculpture? Custom-made accessories?  Ephemeral jewellery ? A range of light appliances? A seaweed partition wall? An algae food-design workshop with a chef? The story is yet to be written.
But for sure I would like to continue with a wide spectrum, from design, to art, and industry ; to take the research further in collaboration with experts, to manufacture custom-made textile pieces, to develops bigger scale seaweed-volume, to take part to challenging projects around seaweed, to explore languages of seaweed with a network of different craftmanship, in order to rise a range of singular products, to set up dialogue with thinkers like Gilles Clement to nurture questions rising up while interacting with an ecosystem.
I have few exhibition projects taking shape too.
I am corresponding for a year now with the german artist and seaweed designer Julia Lohmann and joining forces with her in "Department of Seaweed", a transdisciplinary collective of makers who specialist on the sustainable use of seaweed.
Being from and based in Brittany I develop my network locally, I am prioritizing local seaweeds and actors ; this shared platform would allow us to enlarge and apply our discoveries to different economical and cultural contexts at an international scale, serving sustainable principles and local communities.