THANK YOU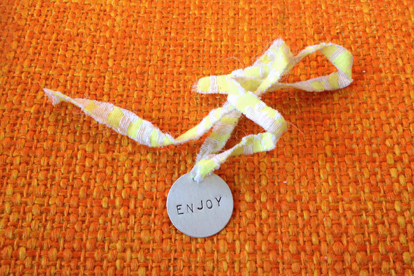 photo by caroline haufort
a trend for paying respect to others. our everyday world is getting more and more violent. and public life pretty difficult therefore. transport in particular becomes a daily fight. and airline travel even more so. the constant abuse in check in, the security dilemma and in flight moroseness is getting worse with our crisis deepening; making humans into little monsters happy to hurt others to feel a bit better themselves....

so, what to do about this small violent attacks that make our daily lives difficult? counter-attacking doesn't help and costs too much energy. one day I decided it was time to honor nice people instead.endorsing kindness in hope to promote it! so now when we do shopping, do travel, do research or any other activity related to humans we carry simple textile bracelets with a silver metal charm, a medal saying ENJOY which has been my keyword forever I work and publish.

in the event that somebody is particularly nice to us; a security officer, a bus driver, a sales manager, a museum guide, a toilet lady and others we pull out a bracelet and "decorate" our "laureate" with the ENJOY insigna. the recipients are most of the time speechless and sometimes close to tears. it happens to be a fact of life that nobody ever is nice or gentle to them and in their job they have to fight a lot of aggression as well. we hope that this idea can become a small movement of people standing still and thanking human kindness.

if you want to do the same you are welcome to order ENJOY bracelets from us. but you could also make your own medal of thank you with your chosen charm and own personal message.

ENJOY

and, as my friend Susanna Piet says,"KEEP HUMANS KIND"

Lidewij Edelkoort
MONUMENTA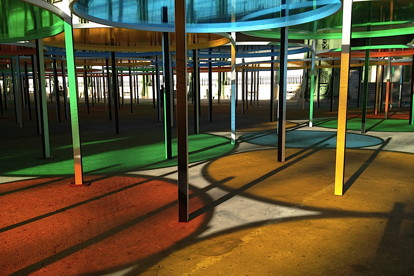 photo by cécile poignant
Each year, the Grand Palais in Paris offers the entire nave to a sole artist for a great challenge called Monumenta.
This year, the French artist Daniel Buren follows in the footsteps of Anselm Keifer, Richard Serra, Christian Boltanski and Anish Kapoor. With his in situ piece, "Excentrique(s)" - which means both "elliptical" and "eccentric" -  Buren has built a true artificial landscape: a fascinating forest with a canopy of circle-shaped colored pergolas.The visitors' path in this forest leads to a sort of clearing under the Palais' large central dome. There, huge circular mirrors are installed, reflecting the ambient colours of the installation in a magical way.
After spending a while in the installation, "Excentique(s)" becomes a very intimate space; life is seen through many different hues and we simply want to remain and be immersed in its magic.
Cécile Poignant
Discover more on Trendtablet
SHAMANIC ACTIVISM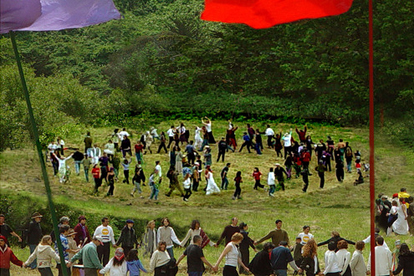 photo courtesy planetary dance
San Francisco is celebrating its Bay Area Dance Week in April, ending the festival with a ritual dance performed in Union Square, San Francisco, by Anna Halprin and the Bay Area Community of Planetary Dancers.
On Sunday April 29 I heard the drums from the 18th floor of my hotel room. A community of performers were dancing in inverted circles around a band of musicians. I rushed down to see from up close and filmed this group dancing, playing music, chanting and reciting poetry inspired by Native American texts on how to live in harmony with the earth. Many observers joined the dance.
This modern ritual is performed on the public place, showing how the ecological movement is gaining momentum while linked to indigenous wisdom concepts, i.e. Trend Union's fall/winter 2013-14 Shamanic trend theme.
Anna Halprin was born in 1920 and danced her way out of death when she was ill with colon cancer. She has been performing the "Planetary Dance: A Call for Peace" choreography and teaching dance as an healing art ever since. The movie "Breath Made Visible" directed by Ruedi Gerber was released in 2009 and relates her story of healing and aging through an intuitive way of dancing connected with shamanic traditions.
Emmanuelle Linard
View the Trailer
SOUTH OF INDIA
photos by cécilia andrews
Cécilia Andrews is a visual artist, she worked in Paris for 20 years. She grew up in Santiago, Chile where she studied Fine Art. She shares with us her latest trip in South of India.
«This trip was programmed at the beginning for vacation and discovery of the textiles factory in south of India, it ended up very fast in an admiration of the indian culture : those colours, smells and textures….
In a period of monsoon, everything is more contrasted. The colours are vivid and the elements of daily life pushes us to concentrate, to smell and to hear by looking at all the details.
I walked during days, blushed by skin, clothes, eyes, smiles, gesture and the accessories were glittering in opposition to this incessant rain. India is a country of contrast, i had already read and heard it a thousand times however it's an indescribable feeling, it's like you feel absord by a world without boundaries.
Under the rain that falls, barefoot, the coton absorbs the humidity ambiant which comes along the trip with us… fabrics  are orange, fuchsia, yellow, blue, green and white… The smell of tea rythm the pauses, in India there is always a miracle that shows up in the middle of a chaos… the hundreds of variety of food, the colours and the perfumes invites you to hunt ; to taste the variety of sugarish food, salted, spiced or milderness. Have you ever tried to only eat with your right hand ? In India, you have to take the time…
It was an incredible discovering trip, under the charm of a brilliant universe. I hope that these images will make you travel to this coloured country…»
Cécilia Andrews
EGG WITH A VIEW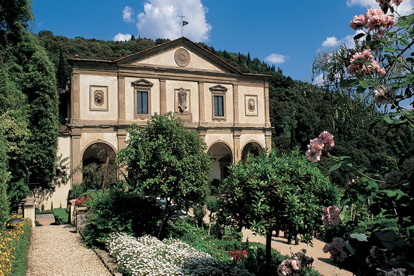 photo courtesy of villa san michele fiesole
Having ordered eggs benedict in countless restaurants when travelling, I have always kept note of the best variations. The Bathers' Pavilion in Sydney ranks highly, as do other benedict versions in Manhattan, Tokyo, Cape Town and Stockholm. But among all of these respectable eggs, there is only one egg that truly changed my life, and that one is served at the Villa San Michele in Fiesole, overlooking the iconic Renaissance cradle that is Florence.
Villa San Michele is a former monastery that has been converted into a luxury hotel, its rooms maintaining a humble air thanks to the imposing architecture of its 15th century edifice. The hotel's best features are its scenic gardens and a spectacular infinity pool that literally sits on the edge of the city. The hotel staff and waiters are delightful, as is often the case in Italy, serving guests with a personal approach that is the antithesis of any hotel chain rule book. A regal buffet breakfast is unfolded each morning; the likes of which many hotels would be jealous, including amazing sweets and an extensive selection of mozzarellas. Even the American guests are kept happy with freshly made miniature pizzas! 
Despite witnessing all of this lavish finery, I thought I would be happy savouring the simplicity of a nicely-textured egg; yet my heart skipped a beat when it arrived in its own tiny ramequin and topped with shavings of black truffle! This simple gesture did more than make my day: it showed how just a simple idea can transport the imagination of a client, elevating my experience to new heights. But the fact that all of this beauty was not at an additional charge is what really impressed me. So take note luxury brands: consumers crave being spoiled without any strings attached, and will therefore always be eager to come back for more. 'Unconditional Service' is definitely something to explore.
For those of you unable to travel to Florence, please don't crack your shell since truffle is currently bringing out the flavour of many eggs around the world, including Oscar's at the Waldorf Astoria, Cecconi's in London and Keefer's in Chicago.
Philip Fimmano
NEXT SEMINARS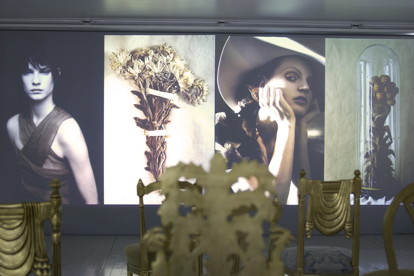 VENLO June 1 - VIENNA June 4 - DUSSELÖRF June 5 - BERLIN June 6 - PARIS June 8 - BASEL June 14 - MÜNCHEN July 11 -
EXHIBITION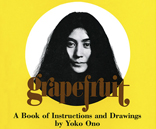 Yoko Ono


In Stockholm, the Grapefruit exhibition will include a selection of Yoko Ono's 'instruction pieces', which invites us into imaginative ways of looking at existence and at the making of art. A number of experimental films and pivotal early works show Yoko as a pioneer of conceptual art and the international fluxus movement, and also reflect the artist's lifelong struggle for peace and love. 
BOOK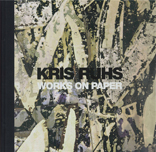 Kris Rhus
"Works on Paper"

Artist, sculptor and designer, Ruhs was born in New York in 1952 and since 1980 he took part in solo and group exhibitions in the greatest american art galleries. Since 1996 he lives between Italy and France. Handicraft, nature as inspiration for forms and colours and sculptor's materials are his main characteristics. His designs are recognizable from the shades of earth, from ebony colour and from the natural pigments he uses.
EXHIBITION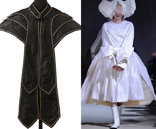 Balenciaga & CDG


The Galliera Museum has organised two exhibitions at the Docks-Cité de la Mode et du Design. It is an opportunity to discover the world of Cristóbal Balenciaga and Rei Kawakubo - Comme des Garçons in this new Paris venue on the banks of the Seine.
MORE TRENDS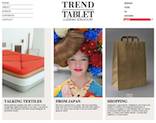 TREND TABLET


trendtablet.com explains how trends grow, evolve and flow, and helps us better understand and perceive how they interact in our daily lives. this tool accessed for free is open to comments and new ideas, please contribute and be part of our network .Enjoy!
JOIN US
BOOK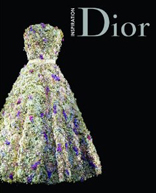 Inspiration Dior

"Inspirations Dior" offers an exclusive and comprehensive look into one of the world's most successful names in fashion. Showcasing works of art, archival photographs of the gowns and of fashion shows, unpublished images specifically taken for this catalogue by Laziz Hamani, and sketches, this elaborately illustrated book also contains text from an impressive array of respected art and fashion experts.
MAGAZINE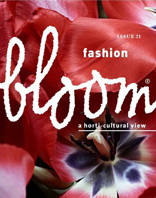 Bloom


Over the last few seasons we have seen flowers starting to bloom on textiles, experimental plants invading dresses and witnessed leaves whirling onto scarves.Therefore, we have created a magazine that is much like a bazaar, containing all the types of fashion that flowers have to offer, exploring their influences to the fullest.

 
CATALOGUE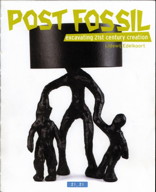 Post Fossil


Post Fossil. Excavating 21st century creation. This catalogue was printed on the occasion of the exhibition in Tokyo.